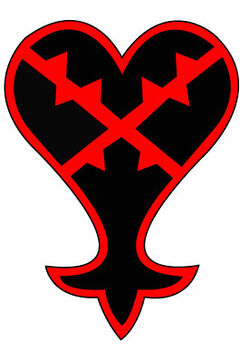 The Heartless (ハートレス Hātoresu?) are beings of darkness that manifest in two forms, "Pureblood" and "Emblem", the second being created artificially. While most Heartless are in fact manifested hearts, they behave entirely devoid of emotion, and thus were named "Heartless". They're Enemies Under the Command of Ansem, Seeker of Darkness and Maleficent.
Types of Heartless
Pureblood Heartless
Shadow
Gigas Shadow
Neoshadow
Mega Shadow
Darkball
Bit Sniper
Shadow Torpedo
Invisible
Orcus
Possessor
Shadow Stalker → Dark Thorn
Mega Stalker → Shadow Brute
Pure Stalker → Demon Shadow
Darkside
Dark Follower
Pureblood Battleship / Shadow Transport
World of Chaos
'
Emblem Heartless
Soldier
Large Body
Air Soldier
Air Commander
Air Trooper
Red Norctune
Blue Rhapsody
Yellow Opera
Green Requiem
Black Ballade
White Comedy
Grape Jam
Teal Electropop
Cherry Philharmonic
Minute Bomb
Cresendo
Bubble Beat
Blizzard Note
Flare Note
Creeper Plant
Dire Plant
Fire Plant
Blizzard Plant
Poisonous Plant
Tornado Step
Papercutter
Trapjaw
Behemoth
Jungle Behemoth
Destroyed Behemoth
Arch Behemoth
Black Behemoth
Wight Knight
Tricker and Treater
Toy Soldier
Graveyard
Aquatank & Screwdiver (20,000 Leagues, Atlantica)
Sea Neon & Sheltering Zone
Pirate (Neverland, Port Royal)
Air Pirate (Neverland, Port Royal)
Air Viking
Sky Buccaneer
Buccaneer Cannon (Port Royal)
Night Blaze → Hell Blazer
E-185 Destroyer (KH: AoKc)
Bandit
Luna Bandit
Fat Bandit
Tailbunker
Avalanche
Wavecrest
Phantomtail
Windstorm
Dustflier
Poisontail
Wyvern
Wingflyer
Guard Armor → Opposite Armor
Strato Armor
Red Armor
Thunder Armor
Parasite Cage
Infect Trapper
Search Ghost
Spark Ghost
Nova Ghost (KH:NotW)
Ad blocker interference detected!
Wikia is a free-to-use site that makes money from advertising. We have a modified experience for viewers using ad blockers

Wikia is not accessible if you've made further modifications. Remove the custom ad blocker rule(s) and the page will load as expected.