Kingdom Hearts: Aqua's Journey is a spin-off game to the main Kingdom Hearts series that involves
Aqua
as a main protagonist as she is looking for her friends,
Terra
and
Ventus
with the help of
Ansem the Wise
,
Marco Bellies
and
Suki Higurashi
as they explore various worlds, Disney and Non-Disney in hopes to save them.
Summons or D-links (Dimension Links)
Worlds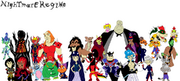 Characters
Heroes
Allies
Villains
Gallery
Boss battle music
Ad blocker interference detected!
Wikia is a free-to-use site that makes money from advertising. We have a modified experience for viewers using ad blockers

Wikia is not accessible if you've made further modifications. Remove the custom ad blocker rule(s) and the page will load as expected.